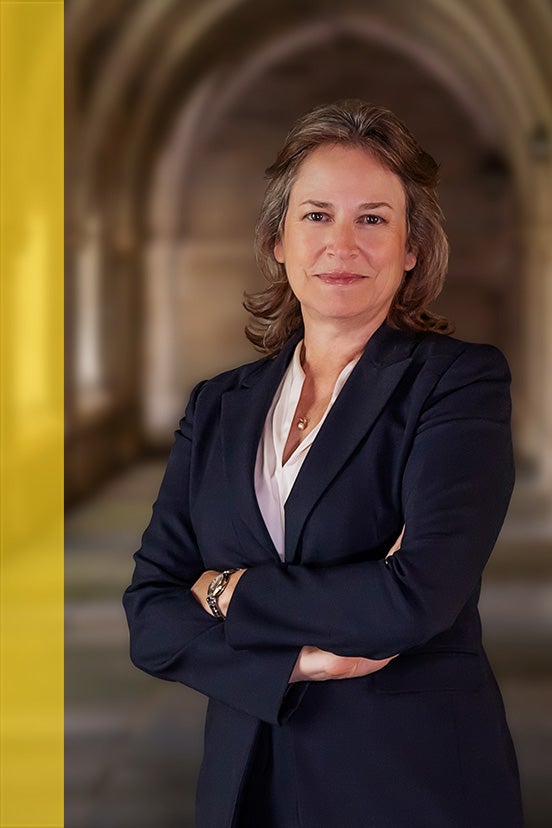 Emily A. Carter is executive vice chancellor and provost (EVCP) and distinguished professor of chemical and biomolecular engineering at UCLA. Dr. Carter began her independent academic career at UCLA in 1988, rising through the chemistry and biochemistry faculty ranks before moving to Princeton University in 2004, where she spent the next 15 years jointly appointed in mechanical and aerospace engineering and in applied and computational mathematics. During her first stint at UCLA, she helped launch two institutes that still exist today: The Institute for Pure and Applied Mathematics and the California NanoSystems Institute.
While at Princeton, she held the Arthur W. Marks '19 and the Gerhard R. Andlinger Professorships. After an international search, she was selected to be the founding director of Princeton's Andlinger Center for Energy and the Environment. From 2010 to 2016, she oversaw the construction of its award-winning building and state-of-the-art facilities, the development of novel educational and research programs, and the hiring of its faculty and staff. After a national search, she served from 2016 to 2019 as Princeton's dean of engineering and applied science, where she spearheaded major research, education, outreach and diversity initiatives, before returning to UCLA as EVCP in September 2019.
Dr. Carter maintains a very active research presence, developing and applying quantum mechanical simulation techniques to enable discovery and design of molecules and materials for sustainable energy. Her research is supported by multiple grants from the U.S. Department of Defense and the U.S. Department of Energy. The author of more than 400 publications, Dr. Carter has delivered more than 550 invited and plenary lectures worldwide and has served on advisory boards spanning a wide range of disciplines. She is the recipient of numerous honors, including election to the U.S. National Academy of Sciences, the American Academy of Arts and Sciences, the U.S. National Academy of Inventors, and the U.S. National Academy of Engineering. Dr. Carter earned a B.S. in chemistry from UC Berkeley in 1982 (graduating Phi Beta Kappa) and a Ph.D. in chemistry from Caltech in 1987, followed by a brief postdoc at the University of Colorado, Boulder, before joining the UCLA faculty.
Learn more about Dr. Carter's research on her UCLA Samueli School of Engineering faculty website.
Select Speeches, Interviews, and Articles